Horticultural Talks
Are you looking for a speaker for your gardening club or organisation then we may be able to help. Richard offers a range of light hearted yet informative talks on a range of subjects. Most of these are done on powerpoint, with good quality pictures. However hands on practical demonstrations as well as question and answer sessions are often requested.  He is prepared to travel, just drop us a line and we will check his diary.
Costs are variable, depending on size of club and location, but for local clubs he charges £40 plus 40p per mile.
A good range of interesting plants will be brought for sale.
Below is a list of the talks that Richard currently presents. Having been on the circuit, so as to speak, for twenty years or more nothing is too large or small. We encourage audience participation and it is usually followed by a question and answer session. The talks can be tailored to almost any length, the norm being about an hour but longer or shorter are both easily doable. Talks not listed can also be put together given a couple of weeks notice, so if what you are after isn't listed drop us a line and we will see what we can do!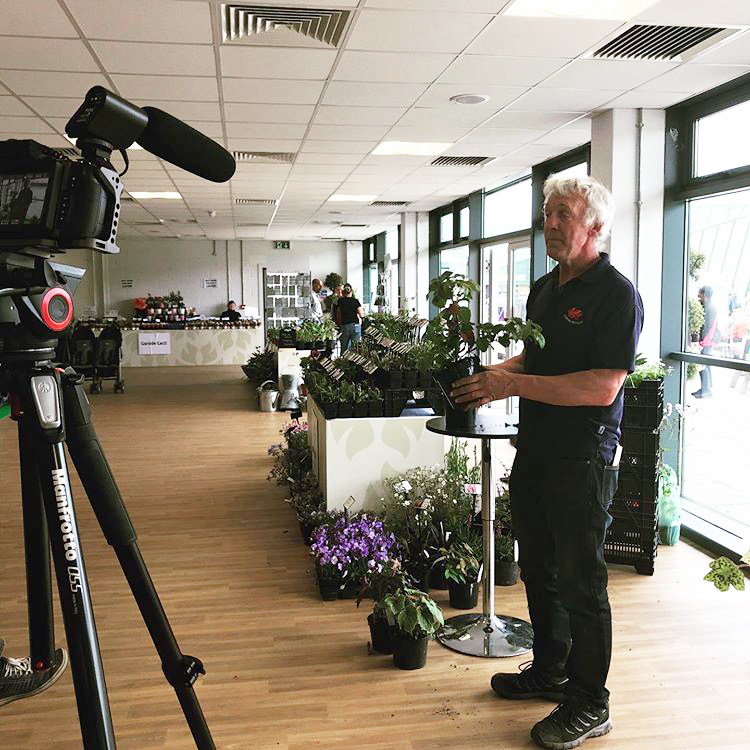 Hellebores an addiction.
One of the nurseries specialities and always a very popular topic. A talk on how to grow them, the varieties and colours available and the breeding that goes on during the cold winter months.  A very pictorial talk.
These plants have to be amongst the most popular plants in cultivation today…. And rightfully so. They flower in the darkest months of the year and continue right through until April/May. They come in such a huge array of colours, shapes and sizes,  it is fair to say that no two are exactly alike and they are as tough as old boots, handling all that nature can throw at them. We started growing Hellebores way, way back when Helen Ballard was the queen of these amazing winter flowering perennials. This talk guides us through our progression, where we went after inheriting a large quantity of Ballardian stock, the way different colour lines were introduced and the intricacies of Hellebore breeding, which enabled us  to get to the where we are today, amongst the worlds best growers of these gems. Covering the range that is available, we will demonstrate how to pollinate, sow and germinate, nurture and finally plant and care for them, with tips and treats to get the best form them. There are two versions of this talk, the humorous light hearted version, featuring our famous canine friends, and for the more serious group there is the latter version, still light hearted but a little more educational. The talks are both very pictorial with lovely photos. We encourage audience participation and it is usually followed by a question and answer session. The talk can be tailored to almost any length, the norm being about an hour but longer or shorter are both easily doable. Our most popular talk.
A plants-mans tour of New Zealand.
A talk based on a kayaking trip to New Zealand during the Summer months. The emphasis is on the native flora with a special emphasis on New Zealand itself, the scenery and other relevant bits and bobs. Again a very pictorial talk that is always well received, combining horticulture with a glimpse of this beautiful land.
In 2013 and 2014 we made the lengthy trip to New Zealand, to Kayak with a small group of friends. Kayaking was thoroughly covered but as a spin off we fell in love with this amazingly diverse, interesting and very beautiful country. Within ten minutes of landing at the airport this talk was already being planned and with this in mind Richard set about boring the rest of the group with photographs of every tree, shrub, fern, grass, lichen and herbaceous plant that he came across. Both Islands are covered, from the almost tropical tip of the North Island to the incredibly different and much colder South. New Zealand has an amazingly unique flora and fauna with 80% of the native life being unique to these islands. This talk is therefore an eye opener, with plants, especially ferns, to whet the appetite of even the most experienced plants-man. Not only will we will show you the unusual wildlife and the intriguing
Plants for shady sites
Plants for putting in those awkward shady spots that we all have. A mixture of flowering and foliage specimens to give year round colour and interest.
The Nursery in Llandysul was started way back in 1984 from a field and a scrub patch. The field developed into the growing areas and the scrub, with its wet boggy areas, tree strewn borders and semi sunny interior became the nursery show garden. Several areas were created and as the years passed it became more and more shady. This of course required a rethink and with this in mind the nursery and garden alike became much more shade conscious . We tend to think of these dark patches that most gardens contain as being 'problem areas', however, hopefully, after listening to this, we will learn to cherish them and treat them as equals in the garden to rival the sunny more traditional borders. Shade is not a problem but an advantage giving us the opportunity to grow things that just wouldn't survive in so called 'better' areas. The approach to shade gardening is very different, late winter, spring and autumn become the dominant seasons, with a much larger emphasis on foliage than flower (although not exclusively so). With plants as diverse as Pieris, Helleborus, ferns, Epimediums, Hostas and many many more, we will show you something for all year round colour, introducing the audience to form and shape as well as colour. The trees around the nursery garden are now very large and so almost the whole garden is bathed in this cool cloak, yet we never tire of hearing the compliments often without a flower!!
Ferns and shady plants for the garden
A slightly different version of the above talk with a much larger emphasis on ferns.
This group of prehistoric plants and their modern cultivars are kings in the shade, nothing likes these conditions better and this talk will show us some but by no means all of them! Their range is superb and almost infinite, and with details of how to grow them and how to increase them, its all here. There is also many more shade loving plants covered (as above) to add a bit more colour to the green fern 'tapestry'.
Winter Shrubs
A pictorial talk on shrubs to give winter interest covering the period from late Autumn to early Spring. A mixture of shape and form with the added bonus of flowers.
We were asked to do a talk on winter shrubs a while ago….. nightmare territory!….. Or was it? After getting over our initial worries, we set about doing a bit of research. So many plants, most of which we were already growing and selling. This talk takes us on a lovely journey through the much disliked winter months to try and spice up our options… it certainly did ours!!
Plants for Spring gardens
Spring the most lovely time of the year. This talk highlights a small portion of plants that are in colour at this time of year.
All gardeners love the spring, and most would admit that it is the most exciting of all the seasons. There is something very special about the rebirth of all those dormant plants as they break out from their long winters sleep to give us such an abundance of colour. This talk is by no means exclusive, only really scratching the surface with jewels like Primulas, Pulmonarias, Anemones, Epimediums, Erythroniums and many more to whet your appetite. It is so difficult to choose from the many thousands, so Richard has picked from amongst his favourites, those that in his opinion give good value for money. Amongst the details will be how to grow, propagate, and where to plant for best results. Also foliage will play a large part, as, if you haven't realised by now, this is such a massive part of the garden that is often very neglected. Foliage is so long lasting that colour is there for many months providing a foil not just for the spring beauties but often for the summer and autumn ones too. A lovely light talk for all abilities and groups.
Autumn into winter
There comes a point in time when, as the gardening year progresses, colour in a lot of gardens begins to wane. Gardens often look lack lustre and many an avid gardener becomes a little despondent and longs for the winter clean up…… Well stop it!! This talk is designed to show us all that the autumn is a season with a plethora of plants that give an absolute riot of colour. As summer flowers fade and the bedding plants pass, the autumn army pushes on with its riots of colour to replace them. There are so many and as sales at the nursery gradually went into the winter recess we massively expanded the autumn contingent to fill this gap. We now stock hundreds of things and this talk will highlight many, but obviously not all, of them.
It is funny how as autumn approaches and the days shorten, with light levels falling, nature steps in and the colour palette of the garden changes, with the fiery yellow, red and orange colours becoming prevalent. Somehow shades that we don't tolerate in the summer borders become acceptable if not desirable. Subjects covered include Hydrangeas, Asters, Salvias, Schizostylis, Acers and grasses with all sorts of others thrown in! Yet again there may be a mention of our renowned Hellebores. One of our most popular talks.
Ponds building, managing and planting
There is something very special, almost magical about water in the garden, especially if it moves with its associated calming sound. It adds a totally new dimension and more often than not different and often troublesome problems! This talk hopefully smooths the way to trouble free water gardening. Topics covered include how to site and build your water feature, the pitfalls to avoid (and there are many of these), what to put in and around it and how to maintain a healthy well balanced feature. Whether you want just a very small presence or a lake sized project, there will be something of interest here. Most garden centres stock a very poor selection of sometimes undesirable plants, yet there are some really exciting plants that can be incorporated into your area. Why not add a marginal area if you are going to add water, this vastly increases the range of both plants that can be grown as well as wildlife it will attract and what is more it ie easy to do. Tips and hints abound, this talk that has evolved over the years.
Tricyrtis
A talk for the more discerning group detailing these unusual and exotic jewels of the east. How to grow them, how to propagate them, where they do best etc.
If you like photography then these plants are a dream come true! The detail in the flowers is as exquisite as it is intricate. And the lovely thing about Tricyrtis is that everything comes in threes, just look at them and it will all become apparent. We were brought our first Tricyrtis by a party of Japanese growers who came to buy our Hellebores. Many of the ones they brought were unknown at the time in the UK and so the idea of a national collection took form. After scouring the country for different varieties we duly achieved their required status and our collection flourished. A gold medal and best in show at Hampton Court followed fairly quickly and this was the icing on the cake.
These lovely autumn flowering perennials prefer a semi shaded woodland site where they will flourish, spreading rapidly if happy to form large clumps. Covered here are the main species and cultivars, how to grow them, propagate them and site them. If the addiction bites there will be no turning back, the list is almost endless and getting bigger every year. Add unusual foliage too and the picture is almost complete.
Growing Roses in Wales
Growing roses in Wales is not easy, this talk aims to give you some tips and advice to help you grow the most beautiful roses.  The talk includes a little about Compo (the original Jack Russell) after all the talk wouldn't be complete without the mention of the dogs, how to plant, care instructions, propagation and advice on varieties, where we highlight some of the best varieties of old fashioned roses.
Growing Veg - The No Dig Method
Growing your own fruit and veg? Then why not try the 'no dig' method. A fascinating insight into the relationship between fungi and plants. This talk explains the theory and walks you gently through the practical methods and applications to grow veg easily and well.
RHS Shows
Our forray into the RHS shows: Over the years we have made numerous trips to the RHS shows culminating in a gold medal at Chelsea Flower Show. The exploits are often humerous, always stressful and exciting. We can do talks on Cardiff, Hampton Court, Tatton, Vincent Square and Chelsea where we did stands in the floral Marquee. An interesting talk showing what goes off behind the scenes.
Farmyard Nurseries & Sue Kent. The trials and tribulations of building a show garden
Sue Kent and Farmyard Nurseries – Hampton court and beyond. We teamed up with BBC presenter Sue Kent to do a show garden at Hampton Court. THis was quite an experience as we had never done a show garden as such before. This was followed by another at BBC Gardeners World Live at the NEC. Bothe were fun and yet difficult. This talk starts from day one and maps the progress culminating with a Platinum award. Sue is funny and inspirational, worth a look!
Houseplants
Houseplants an obsession. An interesting talk by Ruth, Richards daughter highlighting the joys and pitfalls of growing houseplants and showing a range of common and more unusual plants suitable for growing indoors.
Plant Propagation - A Beginners Guide
Plant Propagation – a beginners guide. There is nothing as rewareding as growing your own plants, either from cuttings, seed or division. This talk guides you through the basic principles of this fascinating aspect of gardening.
Sarracenia - The Pitcher Plant
Sarracenia the Pitcher Plants. Love them or hate them, these fascinating members of the plant kingdom have developed their own strategy to deal with the less than ideal conditions that they grow in. This fascinating talk shows the differing types and where they grow. Also how to grow them yourself including all the tips to keep them thriving. They really are easy.
Unusual Fruit & Veg
Unusual fruit and veg to grow in your garden. Away from the normal edible plants that we grow there are a range of lesser known yet very interesting plants. Here we talk you through a good range of different things to tempt your tastebuds.
Visit our website farmyardnurseries.co.uk and sign up to our email listing for special offers, information, events etc.
Also see us on facebook for regular updates.
All the best,
Rich