Our Market Stall in Carmarthen
As well as our shop we also have a lovely market stall every Wednesday, Friday  and Saturday (unless the weather is awful) in Carmarthen. It is situated between Boots and Marks & Spencers and is run by Hazel and sometimes Dave.
We have had this for 30 years (half a lifetime) and have lots of lovely customers who come back week after week to keep us informed of the goings on and gossip and to buy the odd plant as well.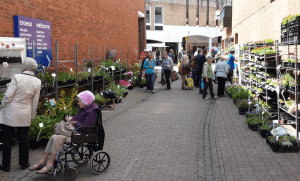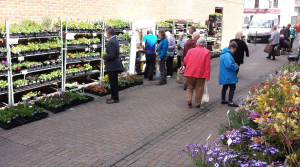 The aim of the market is to be a show piece for the business – so it is always stocked with plants that are looking good, usually in flower to tempt you as you pass.
All the plants that we sell in the Nursery can be brought in to be picked up from here.
We are open from silly o'clock in the  morning until 5 or 6 at night depending on how cold Hazel is!
It is just 200 yards from our shop literally just around the corner!
AVAILABLE FOR PURCHASE
Trees
Climbers
Bedding Plants
Sundries
CONTACT DETAILS
Between Boots & Marks & Spencers, Red Street, Carmarthen, SA31 1QL

sales@farmyardnurseries.co.uk

Wed, Fri, Sat. 08.30 – 17.00
(Weather permitting)