Schizostyllis or Hesperantha
Schizostylis or Kaffir Lilies, as they are commonly known are amongst the loveliest of the Autumn flowers. They have a grace all of their own. Spikes of lily-like flo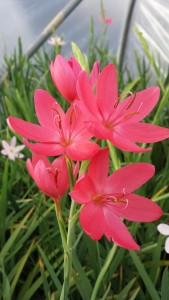 wers are borne high above strap-like foliage for a long period often into the winter months.
They range in colour from pure white to deep scarlet red, and in flowering times from Aug-Dec. If your borders seems a little lacking in colour towards the end of the year, then schizostylis are for you. They are a wonderful group of plants. Also excellent as a long lasting cut flower.
Originally from Southern Africa they have settled in well in the UK.  They thrive in the wetter, milder areas where they flourish. Their ability to flower from September  until December and beyond makes them rather special. In mild areas they have been known to still be in flower as late as March. Here at Farmyard they are one of our specialities. We currently stock 28 varieties, several available only from us, selected from our current breeding program.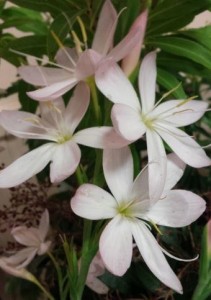 Cultivation  is straight forward. They prefer a sunny sheltered site.  Here they will flower later into the year, but are equally happy in normal garden conditions. Sun is essential and a good supply of water is preferable. Lots of good fertiliser makes for strong stems and bright flowers. Like most cottage garden plants they are best divided every three or four years.  This keeps them vigorous and healthy. In the coldest of winters a mulch may help to bring them through strong and healthy. An added attraction is their ability to double up as either pond or marginal plants.  A truly lovely group of plants.  They have recently been renamed Hesperantha.