So autumn is well and truly here and it has been one of the nices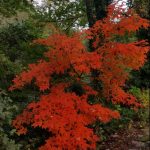 t we can remember.  The Acers have been stunning, and still are in some areas and the leaves still haven't fallen from a lot of the trees.
As winter approaches our thoughts here at the nursery turn to putting everything to bed, just in case we have another really cold time.  Its a good excuse to tidy up and sort everything out in readiness for the spring, even if it does seem a long way off.
Hedging plants will soon be in, usually the third week in November, as well as fruit trees and bushes, Rhubarb and other bare rooted plants.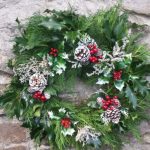 And after that the wreathing season begins.  We do lots of wreaths and can tailor make them to your own specification.  Prices vary to suit most pockets, so if you need a wreath, pop up to the nursery where they are made daily, or pick them up from the shop or market in Carmarthen.  Wreaths are available from 1st of December to the 23rd at the nursery and the 24th at the shop/market.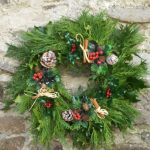 If you fancy making your own we run an RHS course here on the 6th where you can do it all yourself… from mossing the rings right through to adding your choice of decorations.
Pop up and see us any time, there are lots of things here and free tea and coffee to help you along.